On Tuesday night, Attorney General Daniel Cameron won the Kentucky Primary for Governor.
Daniel Cameron, a candidate endorsed by Trump, emerged victorious in the Kentucky gubernatorial primary, defeating Kelly Craft, a former ambassador endorsed by DeSantis.
With 84% of the vote counted, Daniel Cameron was in the lead with 47% of the vote, while Kelly Craft trailed behind with 17%.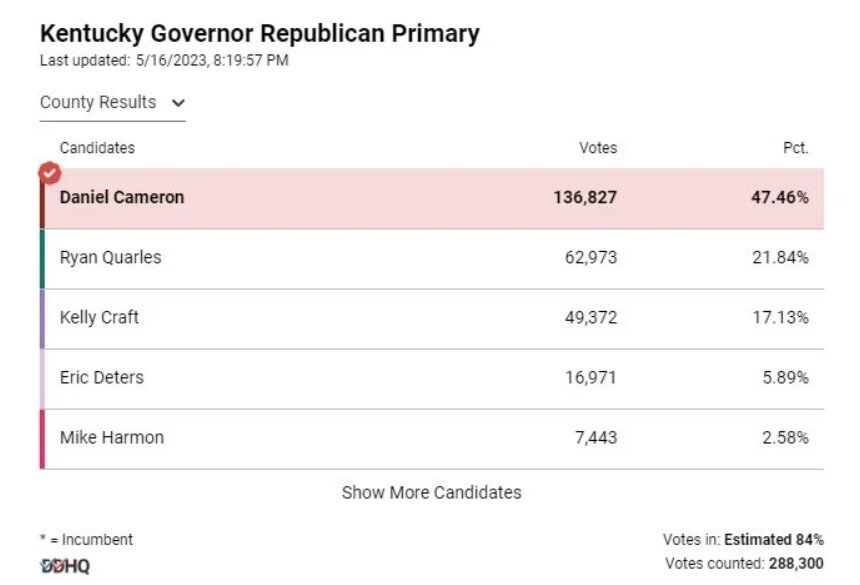 +288,000 turned out in the GOP race.
+180,000 turned out in the Democrat race.
As reported by The Hill:
State Attorney General Daniel Cameron (R), who's backed by former President Trump, is projected to win Kentucky's GOP gubernatorial primary, according to The Associated Press.
Cameron's toughest opponents in the crowded GOP field were former U.N. Ambassador Kelly Craft and Agriculture Commissioner Ryan Quarles.
He was widely seen as the front-runner in the race and was aided by Trump's endorsement in a state that the former president won by double digits in 2020.
The state attorney general garnered national attention in 2020 for a breakout speech at the Republican National Convention.
After the victory, Cameron delivered an amazing speech praising the Trump culture in Kentucky.
"The Trump culture of winning is alive and well in Kentucky," he stated.
WATCH:
Share your thoughts by scrolling down to leave a comment.