Waylon Bailey was arrested and charged with felony terrorism in March 2020 for posting a Covid joke to his Facebook page. Bailey's post was an obvious joke. He even referenced "World War Z," a 2013 zombie apocalypse movie starring Brad Pitt.
"SHARE SHARE SHARE ! ! ! !" Bailey wrote in a Facebook post. "JUST IN: RAPIDES PARISH SHERIFFS OFFICE HAVE ISSUED THE ORDER, IF DEPUTIES COME INTO CONTACT WITH 'THE INFECTED' SHOOT ON SIGHT….Lord have mercy on us all. #Covid9teen #weneedyoubradpitt." he wrote. (screenshot below)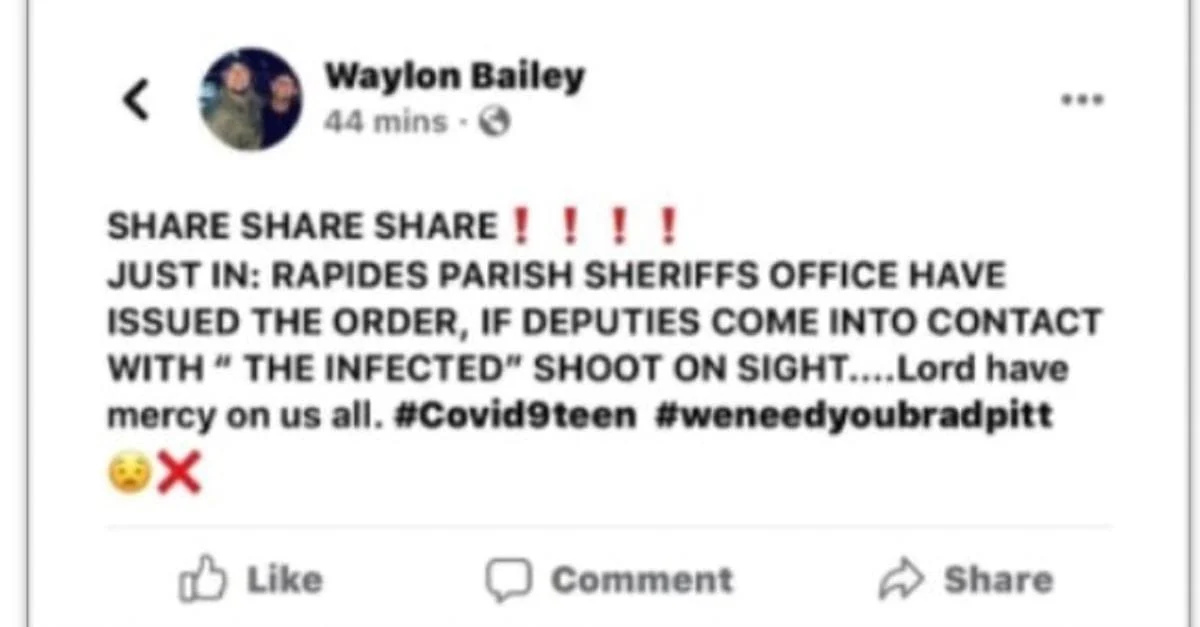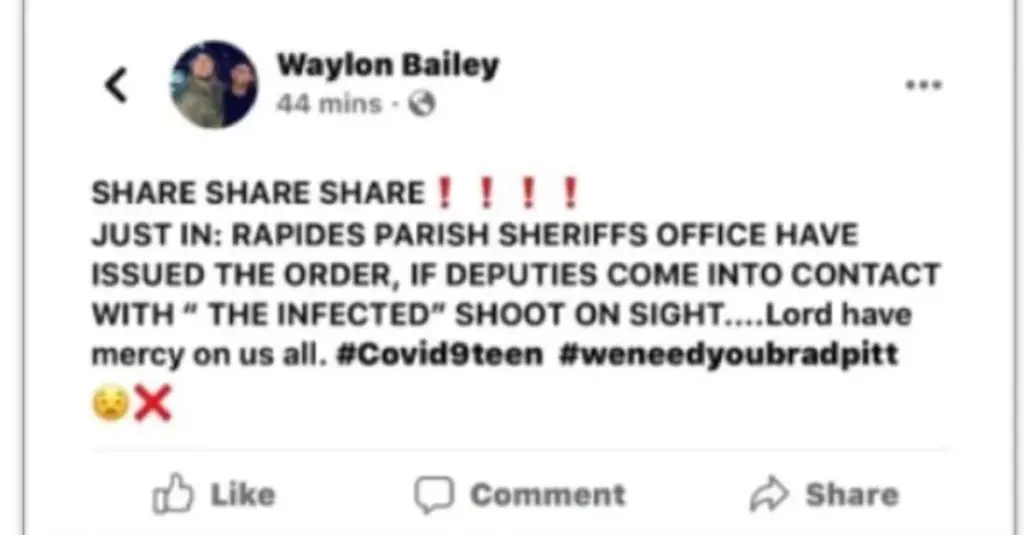 Within hours, a dozen SWAT officers in bulletproof vests from the Rapides Parish Sheriff's Office showed up to Bailey's Alexandria, Lousiana home and arrested him without a warrant. Bailey was arrested and charged with felony terrorism for posting a joke on his Facebook page.
He was released on a $1,200 bond and the DA decided not to prosecute him. Still, the news of the arrest upended his life so he decided to pursue legal action against the Sheriff.
In September 2020 Bailey filed a lawsuit accusing Detective Randell Iles and Sheriff Mark Wood of violating his First and Fourth Amendment rights. In July 2022, US District Judge for the Western District of Louisiana, David Joseph, dismissed Waylon Bailey's claims and ruled the Sheriff was protected under qualified immunity which shields government officials from liability unless it can be proven they violated the Constitution.
Bailey appealed the judge's decision and on Friday, the US Fifth Circuit Court of Appeals ruled his Covid joke was indeed protected speech under the First Amendment.
"The post did not direct any person or group to take any unlawful action immediately or in the near future," the judges wrote, according to the Washington Post." … at worst, his post was a joke in poor taste, but it cannot be read as intentionally directed to incitement."
The appellate judges ruled Detective Randell Iles had no right to arrest Bailey.
The Washington Post reported:
Waylon Bailey woke up Friday morning with the same anxiety that had consumed him for more than three years.

Since Bailey was arrested in March 2020 for a coronavirus joke he posted on Facebook, he has struggled to clear his mind. The felony terrorism charge he faced ruined his life, he said, prompting him to sue two employees from a Louisiana parish's sheriff's office. A district court judge later dismissed Bailey's claims, but Bailey appealed.

On Friday, Bailey was still awaiting a decision. When he checked his phone that afternoon, his angst began to diminish.

His attorney had messaged him the decision from the U.S. Court of Appeals for the Fifth Circuit. Three judges ruled that Bailey's Facebook post — which joked that the sheriff's office had issued an order to shoot people infected with the coronavirus — was protected speech under the First Amendment and that he shouldn't have been arrested.

Bailey can continue pursuing legal action against the sheriff's office employees, the court ruled.

This is an excerpt from The Gateway Pundit.

Share your thoughts by scrolling down to leave a comment.